I was born on the 12th of February 1970 in Brzozówka, which today is in Belarus. I spent my early days in Biskupiec Pomorski, but I moved to Polish coast for school in 1985. Since then I lived in Tricity, where I graduated from high school and university.

The most important for my education was to pass the Matura exam and graduate from a full-time studies. From the beginning I knew I wanted to be a coach. It was my passion. In primary school whenever the teacher didn't come for the PE classes, I ran them instead of teachers. During university time I also conducted classes for my year and led the university team on tournaments. I felt good in this role and I hoped that I would turn out to be good on a professional level.

While I played in Polonia Gdańsk, I also trained junior teams. I got the opportunity to lead the reserve team when I had 29 years after moving to Amika Wronki. I had a lot of luck, because on every stage I met wise and kind people, that I will always remember.

I started my adventure with football in a school sport club OSSA in Biskupiec Pomorski, under the eye of my teacher/coach Longin Grzyb. I was close to playing as a goalkeeper, but in the primary and high school I played as an attacker (when I play in the oldboys teams now, I also play in the attack). I moved to Tricity alone when I was 15 years old. I played for Bałtyk Gdynia and Polonia Gdańsk and I moved to Amica Wronki in 1996, which had already played in the Polish first division for a year. I had an offer from Wisła Płock, but the team was relegated from the first division and Hubert Kostka, who wanted me in Płock, left the club.

Could I have achieved more as a player? Maybe so. However, I played in the Polish first division, Polish Cup finals, Supercup and European cups. There are not many coaches working in Ekstraklasa clubs that played on such a level. As a player I accomplished a lot, although not as much as I would like to.
Quote of the Week
"A boy will not become a football player if his dad drives him to the training, picks him up after it and washes his shorts and shirt. This way you will not mould a character"
Gallery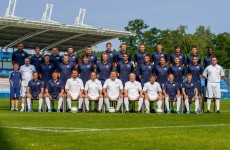 Podbeskidzie Bielso Biała