Coach » Arka Gdynia (2008-2009)
| | |
| --- | --- |
| 07.2008 – 04.2009 | Arka Gdynia (ekstraklasa - top division) |
|   | Position: first coach |
|   | 2009: 13th place in the league |
I came to Arka Gdynia after the Euro Championship in 2008. Even though, I had been proposed to work in Arka Gdynia many times, I repeated that I didn't want to work "at home". Gdynia was my oasis of peace, where I return to my family after finishing working in other clubs in Poland. This time, it was different. It was caused mostly by family reasons. I was over a year alone in Lubin, without my wife and children. I realized how much my children lose because of it and how much I lose. When the offer from Arka came, I had my doubts, but I buckled under the persuasion of my son Mateusz and my …. mother-in-law. I didn't accomplish what I wanted in Arka, but certainly it wasn't a waste of time.
On the first meeting with the Arka board I was given the task of keeping Arka in the Ekstraklasa. The club authorities realized in what situation is the club and the team. The main message was: there is no money for transfers, we have to play with what we have and we should try to get into a position after the fall round of the season where the amount of points between us and a place guaranteeing a spot in the Ekstraklasa next year is not so big. There were supposed to be funds to strengthen the team during the winter and that would allow us to fight effectively for staying in the Ekstraklasa. Life wrote a different scenario. Several players with their cards, for whom it wasn't necessary to pay the compensation fee, joined the club. This includes: Darek Żuraw, Zbyszek Zakrzewski, Anderson da Silva or Marcin Pietron who had joined already during the season.
I came to a team that was promoted to Ekstraklasa from the 4th place in the first division. The preparations for the season were very hard because it wasn't clear… in which division Arka would play. Those confusions caused the beginning of the round to be postponed by two weeks. The beginning was very good for us. We got 13 points in six games (among others we defeated rushing Lech 2:1) and we quickly raised the supporters' hopes. I spoke out loudly that it isn't the true image of Arka. When a series of losses came, it all began to look not the way I wanted. After the series of losses we caught our second wind and finished the round on 7th place with 23 points. I warned about over-optimism at a press conference after the last fall game with Cracovia, giving as an example Jagiellonia and the coach of Cracovia, Artur Płatek who sat beside me, as they had 23 points a season before, but during the spring they had to fight till the last game not to be relegated (I recommend watching a video clip of that press conference: http://www.arka-tv.pl/arka-cracoviakonferencja-prasowa).

We had a very good position before the second-leg round, but looking at the spring fixtures (Jagiellonia and Górnik - away, Piast - home, Lech - away, Legia - home, ŁKS - away) those 23 points we got didn't guarantee anything. But nobody wanted to listen to that. Arka was to be completely changed during the winter break, but to bring new players to the team, the old ones that I didn't see in the new team should be transferred  or have their contracts canceled. There was no money to terminate contracts and clubs weren't interested in transfers. I planned to resign after the end of the fall round in such a situation. I didn't, again because of a sentimental attachment, but this was a mistake.

We had a very difficult fixture in the spring of 2009. We started with two away games with Jagiellonia and Górnik Zabrze. We got 1 point in those two games, losing easily in Białystok 0:3 and tying 2:2 with Górnik, which was strengthened during the winter break, although we were winning 2:1 until the last minutes. The next match with Piast Gliwice, which we unfortunately lost in Gdynia 0:1, was a breaking point. It was an important game, because if we had won with Piast, we would have had 27 points and the team from Gliwice would be far behind us. It didn't happen this way.

The next game meant a trip to Poznan for an away game with Lech. We gained a precious point after a 0:0 draw. Happiness lasted for a short time. Legia came to Gdynia for the next round. We lost this match 0:1, losing a goal just before the halftime. We played with the revelation of the spring round ŁKS in Łódź on Maundy Thursday. That was my last game with Arka. During the game I decided to resign from working in Arka. I announced my decision to the team in the locker room, immediately after the game in Łódź. The next day on Good Friday I stopped being the coach of Arka, after a talk with the board. We had 25 points then and we were on the 11th place in the table. There were 7 rounds left to the end of the season. I find consolidation in the fact that during the whole period of my work in Gdynia, the Arka team was never neither in relegation or play-off zone. Finally, Arka stayed in the division after a dramatic finish of the season.

When I started working in Gdynia, I knew that it would be difficult to win the Polish Cup or to get the top position in the division with Arka. From the beginning we focused on the League Cup, where we got to semi-finals without a loss. After I parted from Arka, there were two matches coming with Śląsk for the finals. It was decided, that staying in the division was more important and these games weren't treated seriously. It's a pity, because this threw away almost a year of team's work and a great chance of winning the cup. If I had stayed in the club, I wouldn't have let this chance slip away so easily.

My work with Arka can be differently assessed. I worked in Gdynia only for 10 months and I think, that as a coach I didn't win anything, but I got another valuable experience and I was closer with my family which was also important. I have a great satisfaction today, when I watch Arka's matches and I see Michał Płotka's or Marcin Budziński's play. I had other, more experienced players for their positions, but I picked them – young and inexperienced players. Now you can see, that I didn't make a wrong decision.

I hoped I could more quickly change things in the club, but there were some obstacles which couldn't be avoided at that time. If we observe Arka Gdynia and the actions of the club authorities, that almost completely got rid of players from my team, we can see that the coach wasn't the only problem in Arka. From the sport point of view I didn't achieve anything great with Arka, but all we needed was few points in the beginning of the second-leg round, so we would be safe in the division and have the opportunity for the final of the Ekstraklasa Cup. It is always some kind of trophy and not many of them are in Arka club. This is what I mostly regret.

Now I know that when you decide on picking a coach job, you shouldn't be guided by sentimental attachment.
Here are some links to video clips of Arka with me and my team:
Quote of the Week
"A boy will not become a football player if his dad drives him to the training, picks him up after it and washes his shorts and shirt. This way you will not mould a character"
Gallery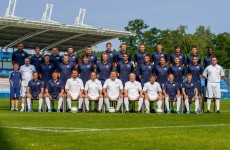 Podbeskidzie Bielso Biała