23-12-2010
Chrismas time
Each and every coach has better and worse moments. When you are in this "industry", you have to analyze what's happening around you and react, but above all – stay calm. Hard work and patience is a solution to many adversities. Passing year taught me that.
I'm looking forward with hope to the following months. Working in Widzew Łódź is a challenge which will require a lot of commitment, but hopefully will bring me huge satisfaction. I received many questions about the goal that was set for me to achieve when I took the team. My answer is: Mainly I am the one who sets goals for myself. I want to be remembered in the history of the club through success, just as it happened in Lech Poznan and Zaglebie Lubin. To achieve that I, indeed, need hard work and patience.
As the Christmas-New Year period is coming I would like to wish all coaches, supporters and journalists who visit my website and with whom I met in this passing year, a cheerful holiday period filled with kindliness, optimism and hope. In the New Year I wish that everything you are doing will be accompanied with passion as strong as in football fanatics and emotions as positive as after a victorious game of your favorite team.
Merry Christmas and a Happy New Year!
 
Quote of the Week
"A boy will not become a football player if his dad drives him to the training, picks him up after it and washes his shorts and shirt. This way you will not mould a character"
Gallery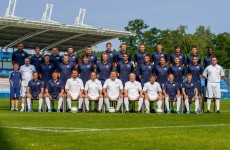 Podbeskidzie Bielso Biała