17-11-2010
Michniewicz to Widzew players: open greengrocer's shops
'During the meeting with the players I said to them: Save money, open businesses, greengrocer's, or whatever, so you don't have to experience what a fired coach does' says Czesław Michniewicz.
The final decision came on Monday, even though on Sunday, or maybe on Friday after the game between Widzew and Cracovia, it was almost decided that Andrzej Kretek will be changed by Czesław Michniewicz as the coach of Widzew. The new coach led a training on Tuesday morning which started the preparation before the Saturday match with Lechia in Gdańsk.
Czesław Michniewicz found time to share his remarks and observations with the journalists between the first and the second training on Tuesday.
One and half year have passed since you stopped being an active coach. What has changed in your life during that time?
Czesław Michniewicz: First of all, I could spend more time with my family. I didn't have to hurry and look for a new job quickly, because I didn't spend or lose in a casino, the money I earned before. I decided I will only become a coach of a team, which has a chance of playing at a high level. I didn't get such an offer before. I was encouraged to work for Piast, Odra Wodzisław and even to return to Arka. However, I decided I am not interested for the time being. I used that time to educate myself. I went for internships to England, I visited Piotr Nowak in Chicago, gathered experience and now I think I am a better coach than one and half year ago. I guess I also grew up as a man.  When I started working in Lech, I was only 33 years old. I wanted to be a friend for my players. I see it differently now. I played with Maciek Mielcarz and Jarek Bieniuk back in Amica, but now both sided distance has to be kept. After all, this is what builds authority.
Did you talk about the team with Andrzej Kretek?
Yes, we have exchanged some remarks today. The talk was nice, if you can use that word considering the situation in which Andrzej is. Then during a meeting with the players I said to them: Save money, open businesses, greengrocer's, or whatever, so you don't have to experience what a fired coach does. We have something in common with Andrzej, both of us were reserve goalkeepers.
Surely, during the talks about working in Widzew you talked about goals and perspectives.
I am not yet looking at the table, because the places will be important in June. We have only six points to the third place. But I realize the situation in which Widzew is and I know that first you need to ensure staying in the division and getting few points. We are going now to Gdańsk, where we will not be the favorites, but this is even good.
Don't you think that the trip to Wrocław may have influenced lack of lucrative offers in the last eighteen months? The owner of Widzew, Sylwester Cacek, said, that there is no place in his team for people involved in corruption and he ruled out the possibility of hiring you.
I don't think it had any influence. Those things are past me. Regarding Mr. Cacek's statement  I read his opinion, but in private conversation, that occurred after that interview, he told me something different. Mr. Cacek admitted that only a legally valid sentence is important for him, and at the end  he said: It's possible that one day we will work together.
Widzew's bosses announced that they're only interested in a long-term partnership, meanwhile the contract is valid only until the end of current season.
I will do everything to work for Widzew as long as it's possible. We agreed on a shorter contract to get to know each other  better and get used to each other. It's obvious, that the work in Widzew will finally end. I compare the work of a coach to a walk on a pier. You walk and walk, but finally the pier ends.
The rules of transfer policy are precisely set in Widzew and not every coach likes it, for example Pawel Janas. Did you present your team propositions to the bosses of the club?
I have learnt the names that the club is interested in, obviously I will have my own propositions. Just like everywhere else, in Widzew the coach is the person who gives opinion on every candidate from the sport side. I can't imagine it could be different here.
You are known for being open to the media, you have your own blog and website. Will something change in this matter now?
I think I will not have enough time to write a blog, but I will not stop commenting football events, but obviously I will have to limit myself in regards of matters related to Widzew. The contract, which I signed, is very extensive and it has detailed terms of contact with the media. I know this structure and rules. It's understandable that I will adhere to them.
It turned out that from the times of Franciszek Smuda and the relegation from the first division in 2004, the Widzew coaches were goalkeepers, defenders or, at best, defensive midfielders. Can it influence the style of the team, that is strengthened from season to season?
In Italy it is said that the champion is the team that lost the least amount of goals. Winning 5-0 means you had a great advantage. If you play with equal team or you are the weaker one, it is a feat to win 1-0. It can be even more difficult than winning 5-0. My philosophy is that a team is build from the back and the defensive play is the fundament of success.
Interviewer: Wojciech Filipiak
Source: sports.pl
Quote of the Week
"A boy will not become a football player if his dad drives him to the training, picks him up after it and washes his shorts and shirt. This way you will not mould a character"
Gallery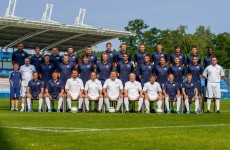 Podbeskidzie Bielso Biała