20-12-2010
Coaches should share their knowledge
Czesław Michniewicz was a guest at a training conference for coaches in Racot near Poznan (www.konferencjaracot.pl) on the Saturday 18th of December. Over 300 coaches from all over the country attended the meeting and had the opportunity to listen to Czesław Michniewicz's remarks about giving a briefing and managing warm-ups before a game as well as motivating players during the halftime.
'I am happy that I could meet so many young coaches and share my knowledge with them. How I work is not a secret' says Czesław Michniewicz. 'Everybody knows the recipe for a cake, but some can bake it good others not. Coaches working at higher levels should share their knowledge, because we are using players that are "produced" in the lower leagues. The greater the knowledge of people training the players, the greater the profit for each of us. That's how I see it. I don't hide my knowledge. If I can pass on my knowledge, I do it happily.'
'I have a very positive opinion about the Saturday meeting. You could see a lot of interest from the audience. It gave me a lot of satisfaction, because if you see participants react positively to the presentation you are content that you passed on something that will stay in their minds longer and they will be able to use it in their everyday work.'
Quote of the Week
"A boy will not become a football player if his dad drives him to the training, picks him up after it and washes his shorts and shirt. This way you will not mould a character"
Gallery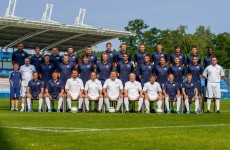 Podbeskidzie Bielso Biała