Coach » Lech Poznań (2004-2006)
09.2003 – 06.2006
Lech Poznań (ekstraklasa - top division)
 
Position: first coach
 
2006: 6th place in the division
2005: 8th place in the division
2004: 6th place in the division 
 
Titles: Polish Cup and Polish SuperCup - 2004
In March 2003, after parting from Amica, Jacek Laskowski from Canal+ called me. He asked me if I would like to commentate the match between Groclin Grodzisk Wlkp and Wisła Kraków. I remember that I asked him if this was a joke, as it was the 1st of April, so the April Fools' Day. It turned out that I was recommended by Grzesiek Mielcarski, who was then training with Amica even though he wasn't really Amica's player. During my work as the coach assistant of Jabłoński in Amica, Grzegorz Mielcarski and Józef Młynarczyk organized trips to FC Porto for me to a little known coach back then… Jose Mourinho. However, due to the sudden lay off of the whole Jablonski's coaching team the plans of internship side by side with Mourinho were foiled. I regret that, even then, despite the fact that the Portuguese was at that time a coach working his way up. The whole world knows him today.
After Mielcarski's recommendation I regularly commentated matches with my friends from Canal+, including the game between Lech Poznań and Groclin Grodzisk Wlkp, during which the supporters said goodbye to Libor Pala by waving white handkerchiefs. I didn't think that I would become the coach of Kolejorz two days later.
During that time I was encouraged to work in Arka Gdynia. After the match between Lech and Groclin I was getting back to Tricity to sign the contract. However, I didn't get to Gdynia. While I was in train, I received a call from one of chairpersons in Lech who proposed me a meeting. I got off at the first stop, in Gniezno and I came back to Poznan to talk about a new job. I chose the team from the capital of Wielkopolska, even though it was in a worse situation, being in the lowest places of the 1st division it could be relegated to a lower division.  But Lech is Lech.
My decision was very difficult for the family, because a month before my second child was born. My wife stayed in Gdynia with two babies, but she was the one who confirmed me in the belief that working in Poznan was a good decision.
The amount of positive memories connecting me with Poznan made the time I worked in Lech exceptional. We won the Polish Cup and the Super Cup in 2004, however, I regret we couldn't repeat that success two years later as we lost in an unlucky game with Wisła Płock in Polish Cup semi-finals. It was close… The celebration after winning the trophy in 2004 and the movie "Droga po Puchar" that documented the last days before the second-leg final game with Legia, are the things I remember the most from that period.
Quote of the Week
"A boy will not become a football player if his dad drives him to the training, picks him up after it and washes his shorts and shirt. This way you will not mould a character"
Gallery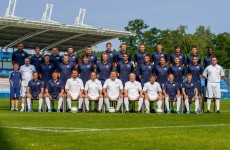 Podbeskidzie Bielso Biała