Coach » Zagłębie Lubin (2006-2007)
| | |
| --- | --- |
| 10.2006 – 10.2007 | Zagłębie Lubin (ekstraklasa - top division) |
|   | Position: first coach |
|   | 2007: 1st place in the league |
|   | Titles: Polish Championship and Polish SuperCup - 2007 |
My contract with Lech Poznań has ended in June 2006. New club authorities weren't interested in renewing the contract. Kolejorz was taken over by Franciszek Smuda, and I was thought to take his previous job in Lubin. Zagłębie Lubin decided to hire Edward Klejdnist.  Mirosław Jabłoński was dealing the cards in Lubin then and he was a good friend of Klejdinst. Zaglebie didn't play as it was excepted.  During that time I went with Rafał Ulatowski for an internship in Tottenham. After my return  I received an offer from Lubin, but I was also in talks with president Drzymala from Grodzisk Wlkp. However, Zagłębie turned out to be more solid, although even in the day of signing the contract a representative from Dyskobolia Grodzisk called me to persuade me saying that Grodzisk would be a better place for me.
During the first season in Lubin we became the champions. When I came to the team it was in the lower half of the table. My first game as the coach of Zagłębie was an away match in Kielce. After this game I told my players, that Zagłebie will be the champion of Poland, if not in this season, than a year later. My dreams came true quickly.
Winning the division was… a problem. Lubin had a 3-year long plan to get to national trophies, and we did it in one season.  The new stadium wasn't ready and there was no time to build a long-term team. Some people accuse me that I come to a team and I get the best results during half a year or a year, but I cannot continue it. I see it differently. I can very quickly squeeze out everything there is from a team, but after a success I never had an opportunity to strengthen the team. After winning the Polish Cup with Lech Poznan during the first season, Bosacki and Świerczewski left the club. After winning the championship with Zagłębie Lubin, Łukasz Piszczek moved to Bundesliga and Michał Chałbińskiej was severly injured. Those two players scored almost 30 goals for the team during that championship season!
When you reach the peak of capabilities with a team, you should either strengthen it or change the coach. It is hard to repeat the success with the same team.
I met young people in Lubin – the president Pietryszyn and the director Jakub Jarosz. I communicated with them well, even though some people suggested otherwise. Obviously, sometimes either me or the president Pietryszyn may have said a bit too much, but I think that looking back on it after some years we both regret that we parted so quickly. However, as the president told me, it wasn't his decision.
Quote of the Week
"A boy will not become a football player if his dad drives him to the training, picks him up after it and washes his shorts and shirt. This way you will not mould a character"
Gallery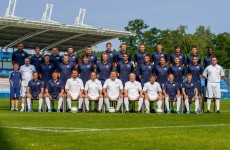 Podbeskidzie Bielso Biała