24-11-2010
Thank you!
Up until today I'm receiving congratulations and wishes of success as I took over the position of the coach of Widzew Łódź. I cannot reply to all of them, that's why I'm thanking, in this place, everybody for all the support that I have received.
It's good to be back on the coach bench. I hope I will lead Widzew to success.
Quote of the Week
"A boy will not become a football player if his dad drives him to the training, picks him up after it and washes his shorts and shirt. This way you will not mould a character"
Gallery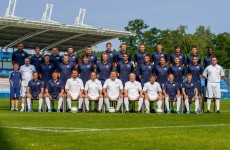 Podbeskidzie Bielso Biała