13-10-2010
Training materials in the coaching corner
Although, Czesław Michniewicz shared his own training materials on his previous website, now the "coaching corner" has been enlarged and will be regularly updated. Other coaches can send their materials that may be useful for coaching.
We added among other, detailed training and team preparation schedule, tactical analysis form and opponent observation form, explains Czesław Michniewicz. There will be more and more of it, including multimedia and films of Schalke 04 trainings and analysis of friendly matches.
Access to the materials is available to all logged-in users. Czesław Michniewicz encourages young coaches to send their own ideas and useful materials. 'I will happily discuss the form and quality of coaching in football at different levels. Those materials should also serve the supporters, which can see the coach work from the inside', comments the former coach of Lech Poznań, Zagłębie Lubin and Arka Gdynia.
Quote of the Week
"A boy will not become a football player if his dad drives him to the training, picks him up after it and washes his shorts and shirt. This way you will not mould a character"
Gallery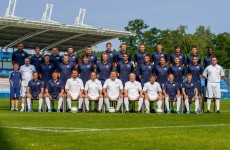 Podbeskidzie Bielso Biała